Circle Star Ranch is a small ranch just north west of Fort Worth, Texas. We specialize in registerd Paint horses and Russian Blue cats.
We are very dedicated to the care and well being of all our animals. We pay special attention to breeding practices and nutrician. We have several award winners in our extended family. From regional grand champions to Annual Best of Breed.
We are very proud of our pedigrees, thier for we are very selective to whom we will addopt to. If you would like more information please go to the contact link, and we will gladly provide you with the information you have requested.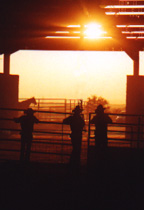 A wonderfull sunset to look at!!!

Registard animals Available for addoption:

Here's a list of some of our horses ready for addoption:

Currently we have one Tovero paint colt ready. His name is Rocky and he is 5 months old. He has wonderfull disposition and comosition. His sire is Red Jet Set a five time world champion, and his Dam is a wonderfull caring mother.

Here is a list of our Russian Blue cats currently available:

At present we have two wonderfull male kittens available. One is 5 months of age, and his name is Victor. He recently compeated in the TICA Annual in Omaha and ribbond in specialty breed.
The other is 4 months old and his name is Alexander. He has yet to compeat. They both have wonderfull composition and disposition and are just the sweetist little pals.